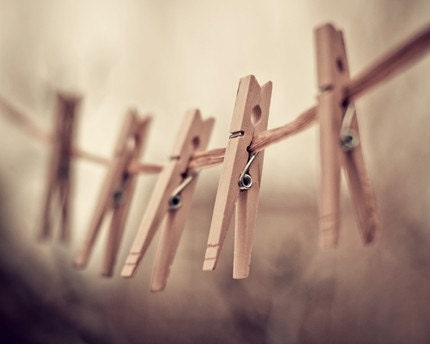 Clothespins. They will never be the same after this. No longer will I picture white sheets blowing in the wind on a warm summer day. No longer will I think of art projects; reindeers, butterflies, and glitter. No longer will I walk past them at the store unnoticed and without a smile. Nope. They will never be the same.

I had a couple glasses of wine -two birthdays in two days screams for wine- and was feeling quite comfortable laying with my head on Master's lap, while we watched TV. Sometimes I wonder if he waits for me to make the first move because, besides the squeeze and rub my ass got for wearing leggings, he didn't touch me in a sexual manner until I scooted further onto his lap, making my ass very available to his hand.

After he took pictures advantage of my very available and now red ass...

"Go take off all your clothes, except for your panties, get in bed, and lay just like this."

Things go fuzzy.

I find his fingers are on my clit, when he asks, "Pick one toy out of the box."
Huh? "I don't know."
"Pick one. Just one."
Time to be honest. I had one in mind... the plug... I chickened out.
I decided on the little, but powerful, vibrator. I leaned over the bed and proceeded to find it...
"Hurry up." He rubbed harder.
Suddenly, I found myself wanting the clamps instead but, seeing as how Master was getting impatient, I grabbed the whole bag of clothespins and handed them over.
"The whole bag?"
I can't remember my reply, or if I replied. The next thing I remember is one going on each nipple, then on my pussy, and another on my pussy, and... then it gets really fuzzy.
I remember fingers, maybe one too many fingers, but all still very pleasant, and the taste of all those fingers when he shoved them down my throat. I think the clothespins where still there... *gazes off momentarily, with a huge grin*
I remember clothespins being put on, taken off, and put back on again. The tenderness that has been left behind is quite nice... it would be even nicer if Master wasn't out cutting wood... *gazes off momentarily* *wipes drool*
And there was biting on my ankles, but that is extra fuzzy.
It was a good night for firsts.
Now you tell me, how could I possibly ever look at a clothespin the same way?
Believe it or not, a cloud made of clothespins is actually very comfortable. You should try it sometime, plenty of room for possibilities.